Support

E-mail

© Copyright 2014
website2Go.com
All Rights Reserved




You are here: Help Topics > Site Data

Site Data





Creating site-wide information

When you click on the Site Data button in the Site Manager, your browser will open a window with several text boxes identified as Step 1, Step 2, Step 3 and Step 4, as depicted in the image below.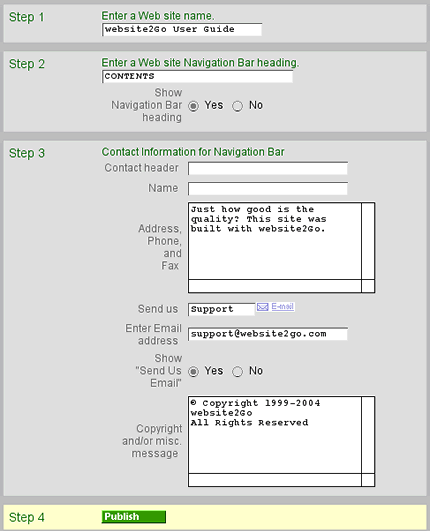 What is Site Data


Site Data appears in the Navigation Bar and will be there on every page.

Site Data is data which you want your website visitors to be able to see all the time, no matter where in your site they are.

Site Data also contains text and email instructions which are used by website2Go's servers to provide automated services to your web site.

What to put in the Site Data text fields

The Site Data window is used to generate a variety of behind-the-scenes elements of your web site.

The first thing to keep in mind is that these elements are editable. If you change your mind later, if one or more of the elements needs updating or editing, you can click on the Site Data button any time to change things.

Step One involves a hidden characteristic of web sites. All web pages can have titles. The title is invisible to the browser and anyone who is on the page but it is not invisible to search engines.

One of the features of most internet search engines is to find the keyword you're searching for in one or more of the following areas of a web site: title, URL, contents. URL is the address (e.g. userguide.website2go.com). Title is a field which is only visible when you use your browser's "show source" feature. However, search engines spend a disproportionate share of time indexing the titles of pages. Content is anything on the page itself, typically, though it refers to the text contents.


Whatever you type in the text box below Enter a Web site name will become the title of the web site. It will appear on every page of your site – not to a browser, but to the search engines.
Because of this, the site name you choose should be both descriptive and specific to your site. Good names include the name of the firm or organization. As an example, if the website is run by a company called website2Go, using website2Go in the site name would be good. If the site is about website2Go's services, the site name could be something like "website2Go Services Web Site."

What you type in the Enter a Web site Navigation Bar heading will appear at the top of the Navigation Bar throughout your site.
Because it will appear at the top of the Navigation Bar on every page, this should be as generic or general in nature as possible.
The Navigation Bar area is for finding and navigating around your web site. Since the Navigation Bar is equivalent to an index or the contents page of a book, the words Index and Contents are usually good.
If you don't want any heading at all, use the radio button to hide it.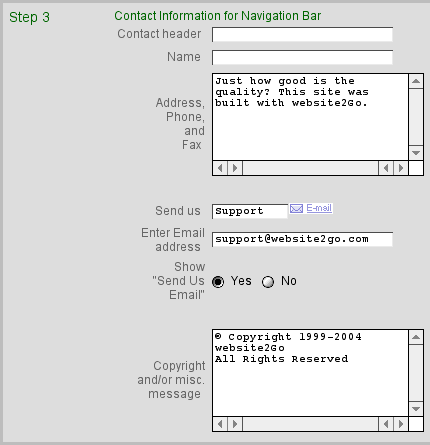 This area of the Site Data window has several different text entry boxes. Certain of the text boxes will be used by the website2Go server to place text in the navigation bar area of your web site. Other text box contents are used to provide email links to the visitors of your website. Still other text boxes provide information which directs the server to send email to you.

When you have finished filling out the text boxes shown below, you will have created a logical statement and means of contacting you which will appear on every page of your web site.



After filling out the text boxes this is what will appear in the Navigation Bar



The data you type in these fields will be displayed at the bottom of the Navigation Bar on every page of your web site.

These elements can be changed as required, if for instance, you have a different set of words which you want to appear on your web site's navigation bar. Of, if your email address were to change.


Contact Header should be something which most visitors to your web site will be able to recognize and use. Words like "Contact," or "Support," are examples.
Name will appear on every page as well. The name of your firm, organization or web site are good examples of what to put here.
Address and Phone, Fax this information will be used by your website visitors to contact you or others you indicate. You can place any valid address or contact information in this field. It doesn't have to be a physical address if that isn't relevant.
Send Us is used to fill in the first portion of an email address which will appear in the navigation bar. It doesn't have to be real in the sense that you don't have to have an email address with this word in it. But, it should be logical enough that your website visitors will use it to send appropriate email. If you are looking for feedback, then "Feedback," should be what you type in here. If the email will mostly be used for service messages, you should type "Service," in this section.
Enter email Address can be any legitimate email address. Logically, though, it should be the email address you received with your website2Go account - name@YourDomain.com. If you don't want to display any email link, use the radio button to hide it.
Copyright, and/or misc. message can be anything you want at the very bottom of the navigation bar. You don't have to fill this area in. If your website is copyrighted, and/or the site contains copyrighted material, this is where you would state that. You can also use this area as the area on your website where a company slogan or company goall can be displayed, such as "CompanyBlank is committed to 100% customer satisfaction, Period!" - or any valid company statement.

Clicking on the Publish button will commit the items you have typed in these text boxes to the server. After pressing Publish your site will be updated to reflect these changes. The Navigation Bar contents on your website will then appear as you typed them in the various text boxes in the Site Data window.
Because you are editing a window (Site Data) which affects every page of your website, there is no Preview button, as there is in the website2Go Editor.
Because there is no Preview, you should double-check your website's main page after you click on the Publish button to ensure that your data is correct. You can always go to Site Manager and click on the Site Data button if you need to change certain information items or update them.



You are here: Help Topics > Site Data