Support

E-mail

© Copyright 2014
website2Go.com
All Rights Reserved




You are here: Help Topics > Search Engines

Search Engines Features

What is the Search Engines feature?


When you are finished with your website, one of the next steps in making sure folks on the internet can find it is to inform the major search engines. The search engine feature of website2Go automatically informs several of the major internet search engines that your site is available.
Until the domain name which you requested has cleared the domain name registration authority, this feature will not be available from Site Manager.
The reason for this is that search engines will reject any submission which does not have a registered domain name.
One of the ways you assist in getting your website properly indexed on the search engines is to use the Edit Metadata in the Navigation Bar on any page in the Editor. Editing the metadata gives you the opportunity to include keywords which search engines then index and which, if they correspond to the query words users enter into the search engine, return your website as one of the "hits."
It's important to note that you don't need keywords to use the Search Engines feature. Search engines will index a site based on two different methods of knowing it exists. One method, and the one which this feature covers, is the site owner (in this case, you) notifies the search engine the website exists. The other method is the search engine discovers the site with its "spider."
Spiders, indexers and search engines
Spiders are web programs which run continuously and look through either pre-defined address ranges or every conceivable address in a particular domain to see if has a web server running. If the spider finds one, or, in the case of indexed search engines, you notify the search engine one exists, then the search engine does something called "indexing" the site. What it is really doing is reading all the text your site has in it's various pages and directories. Text includes the file name of GIF images and the contents of all the text blocks.
Words are categorized by their numeric count (how many times that word shows up in the site) and by certain prefix, root and sufix characteristics. These characteristics all have weights assigned to them. Each search engine weights certain elements of the same web site slightly differently so a search on different search engines with the same query words will return a variety of same and some different sites.
Metadata gets more weight
One thing all search engines have in common is they give more weight to information contained in the section of a web document called "metadata." There are specific tags for this and search engines and their indexing programs recognize these tags.
The most efficient way to take advantage of the power of internet search engines, and a way in which you have complete control, is to fill in the metadata tags on your site with keywords and a description of your site which you create.
Metadata is a very valuable tool in your toolkit. See Edit Metadata in the UserGuide for more information on how to create and best use the metadata tags for your website. Also see metadata in the Glossary.

How to use the Search Engines feature

When you click on the Search Engines button in the Site Manager, your browser will open to a window with several check boxes. These check boxes allow you to specify which search engines you want to be notified of your web site.
What the window looks like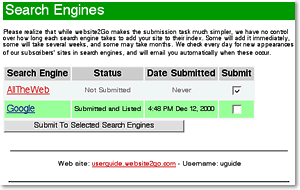 The Search Engines page is a combination links page, status report page, and search engine submittal form page.
It also allows you to directly edit your site's metadata with a link to the metadata features within Site Manager.

A closer look at the Search Engines status panel


The Search Engine column contains the names of the two useful, free, automatable world wide web search engines. All of the other important search engines use these two for their data, require human interaction that can't be duplicated with automated submission tools, or cost money.
Each Search Engine title is actually a link to that search engine's home page. Clicking on these links will open a new browser window containing that search engine's home page.
The Status column tells you whether or not a notification of your website has been posted to that particular search engine. Most search engines today feature an automatic capability to receive information about new sites. Most of them also have an area on their home page where visitors can submit the web address of a site they want indexed.
The Date Submitted column indicates the date the notification of your website went to that particular search engine. Most search engines have some variable length of time before a website notification will get indexed and therefore made available as a possible response to a search engine query. The average time for this to occur is between one and several weeks. This column gives you the information to allow you to track that time. If several weeks pass and your site still doesn't show up in response to searches on a particular search engine, you will have the opportunity to resubmit after a 30 day period.
The Submit check boxes are where you indicate which of the search engines you want notification to go to. There's really no good reason not to check both of them.

We also recommend submitting your site to Open Directory, which is used by the very important AOL and Netscape search pages. Open Directory is a directory, not an index, and requires choosing an appropriate category in which to list your site. Only you know where your site belongs, so we can't submit it for you. Go to Open Directory and click on the "add URL" link. Open Directory is free.

The importance of Metadata
Because keywords are such critical players in the grand search engine game, the Edit Metadata button will appear on the Search Engines status panel if you have not previously used the Edit Metadata feature.
Keywords and description are used by search engines to preferentially weight sites against each other. If a site has more keywords which match the user's query, that site will be returned higher in the listings than another site with fewer or no matches between the site's metadata keywords and the user's search words.
Clicking on the Edit Metadata button here takes you directly to the Edit Metadata Site Manager window. There you can enter a description of your site and also enter keywords and keyword phrases.
When you are finished editing the Metadata information, click Submit Metadata, you will then return automatically to the Search Engines section.
And, finally
Clicking on this button sends the notification about your website to the search engines you checked. If, for some reason, information is missing from the Account Information section of Site Manager, the Submit... feature will be inhibited because some search engines require that data. If this happens, go back to Site Manager and click on Account Information and add the missing data.
Once you do click the Submit... button, those search engines you selected will add the URL for your site to their database and index the contents. It may take as few as several days to as long as several weeks to have your site indexed, depending on the particular search engine.
Use the Date Submitted to keep track of how many days it's been since you submitted your notification. Sometime after the first week you can go to the search engines you checked and query them for a web site using the keywords you entered into the Metadata text blocks. Or, you can query them for the URL for your website. This is the most direct means of testing whether or not that search engine has indexed your site.
You will also want to revisit the Search Engines section later to ensure that the submission to each of the search engines you checked occurred. Sometimes, when search engines are particularly busy, they can fail to receive or acknowledge a notification about a new web site. Should that occur, the status for that search engine will show "Submission Failed" in red. Recheck that search engine box and click on the Submit button again.
Also remember that website2Go will automatically send you an email when your site is listed in a given search engine's database. An example of such an email is shown below:
From: support@website2go.com
Subject: New Search Engine Listings
To:

We wanted to let you know that your site:

http://www.domain.com

has recently been listed on the following search engines:

AllTheWeb - http://www.alltheweb.com
Google - http://www.google.com

The Website2Go Staff



You are here: Help Topics > Search Engines