Support

E-mail

© Copyright 2014
website2Go.com
All Rights Reserved




You are here: Help Topics > Email Distribution Lists

Email Distribution Lists

What is an email distribution list?


A distribution list is a set of email addresses which will also receive a copy of email sent to another email address.
This could be useful if several individuals associated with your site are assisting in responding to email which is sent to a particular email address.
When you establish your site with website2Go you automatically have an email address set up with the name of the individual who registered the site "@YourDomain.com." Typically this would be you. However, if you have another email address you use or addresses which colleagues of yours use, you can enter these additional email addresses in the email distribution list and any mail sent to "yourname@YourDomain.com" will be automatically sent to these additional email addresses.
How to use Email Distribution List features

When you click the Email Distribution List button in the Site Manager, you browser will open a new window from which you can add or change email forwarding characteristics. The window looks like the one shown below.


If you have never used this feature before, you have only the choice to Add a distribution list. To do so you would click on the Add</B > button.
If you have already used this feature, your window will look like the one below instead of the one above.
To Add a new distribution list you would still click on the Add button. You can Modify any list by clicking on the Modify button immediately to the right of any lists you have already established, which will be associated with the email address for which mail is being forwarded.
You can also Delete any existing distribution lists by clicking on the Delete button adjacent to any existing lists as well.


If you click on the Delete button you will be given the opportunity to confirm your deletion or cancel it with a screen which looks like the one below.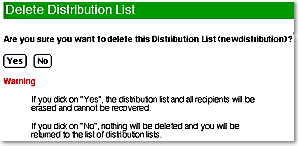 If you click Yes and later decide you erred, you can Add the distribution list by simply clicking on the Add button as described below.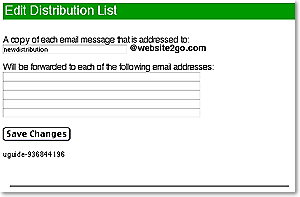 After you click on the Add button, you will be presented with a dialog box as indicated above.
The first text box will be filled in with "newdistribution." You will have to change this and complete the subsequent text boxes with the email addresses where you want copies of incoming email sent.
This is explained below for each text entry area.

What to put in the text boxes

Enter the email address which you wish to mirror the incoming messages in this space.
If you have an email address which is "service@YourDomain.com" and you wish that address' mail to be sent to other email addresses, you would enter the word "service" in the text block.
Your Domain Name will appear in the space above which shows @website2go.com.

You type in these separate text entry boxes the email addresses where you want copies of incoming mail (to the address you specified earlier) to be sent.
These need to be valid email addresses and can be on any other mail system, or other addresses you have with website2Go.
Each recipient, whose email address you type in, will receive a copy of mail sent to the address you specified above. If you type 4 email addresses in here, all four separate email accounts will receive a copy of the messages which are received at the address you specified (in the example above it's "service@YourDomain.com").

After you have completed filling all the appropriate text boxes, clicking on the Save Changes button will transfer the information to the website2Go email service and the distribution list will become effective.
To make changes or delete existing or add new distribution lists, use the Email Distribution Lists button in the Site Manager.



You are here: Help Topics > Email Distribution Lists