Support

E-mail

© Copyright 2014
website2Go.com
All Rights Reserved




You are here: Help Topics > Change Site Password

Change Password

Why passwords?

Passwords are important. They are the electronic equivalent of keys. With them different features of computer systems can be made available to a large number of individuals. Your password gives you access to the web editing and administrative tools and the email delivery system for your website. This means that your website is secure from other individuals and that you have certain privileges others do not. Please respect your password. The integrity of your website is yours to manage, and your password is your key.



Changing your site password
This site management tool allows you to change the logon password you use when you enter the website2Go Editor or site management area.
Changing passwords is generally a good thing to do every so often. Most computer systems managers like to change passwords every two months (some more frequently).
Changing your password is not strictly necessary for security purposes. Website2Go has sufficient server-side protections to ensure that only you are logged onto your site.
There may be times when you might believe you have compromised the security of your password and would like to change it.
There may be other times when you have an individual other than yourself posting changes to your web site. Afterwards, when you are doing the posting yourself, you may wish to exclude anyone who had previously had editing access to your site from being able to enter edit mode again. This is a time when you would use Change Password.
Clicking on the Change Site Password button will bring you to the following site management area: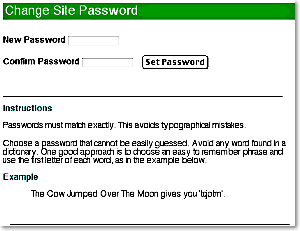 To change your password, type a new password in the "New Password" text field.
Next, type the same, new, password into the "Confirm Password" text field.
Then, click on the Set Password button. Doing this will save the changes.
The next time you log on to website2Go to get access to your site or to use the Editor, you will have to use the new password you just created to get in. Using the old password will now fail.

You are here: Help Topics > Change Site Password