Support

E-mail

© Copyright 2014
website2Go.com
All Rights Reserved




You are here: Help Topics > Domain Name Registration

Domain Name Registration





When you click on the Domain Name Registration button in the Site Manager window, your browser will open a window which shows your particular Domain Name Registration. This information is maintained as a "record" in a database. The database can be viewed by others on the internet and is used as a reference for establishing the uniqueness of domain names.

Viewing Your Domain Name Registration


When you ordered your web site, you were asked to choose a name for your web address. This name is registered with InterNIC, an organization originally established to serve as a registrar for internet domain names.
A domain name is the name given to a specific organization upon request. It is a fee-based name, much like any license. The fees help defray the administrative costs of both maintaining the record and ensuring that the record is properly available throughout the internet.
It is because of domain name registration that you can type "cnn.com" and always get to the home page of Cable News Network.
The record you view will represent the registration information provided to InterNIC for your website domain name.
Some names and addresses in the registration form will be ones you supplied. Others will be supplied by the network administrators at website2Go.
The image below shows what the registration form looks like.
The fields representing the actual data are shown below in pale green. Although this information constitites a public internet record, not showing the contents here improves overall security. When you click on the Domain Name Registration button in the Site Manager, the web page which returns will show your data.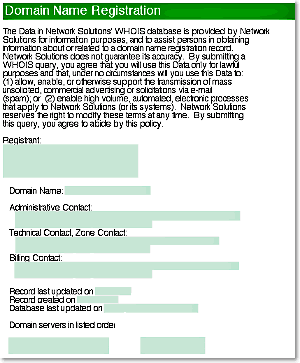 What the Titles Mean
Registrant is the administrative entity (company or individual) which is registering the domain name and therefore the contact for InterNIC.
Domain Name is the web domain name being registered.
Administrative Contact is name of a person who can be contacted for administrative details concerning the domain name.
Technical Contact, Zone Contact is name of a person who can be contacted regarding specific issues associated with routing the domain name to various Domain Name Servers on the internet.
A Domain Name Server is a specific kind of server on the internet (there are many of them) which resolves the domain name (an english-like collection of letters) into a physical address associated with the server containing the files being requested. Domain Name Servers are required for browsers and email systems to work.
Billing Contact is the name of the individual who provides the fee for the registration and continuation of registration. Domain names are fee based entities. The fee covers a two-year registration period and needs to be renewed if it is to be kept on the Domain Name Servers.
Record... These items indicate when the name was first registered, when the last time the record was updated and when the last time the domain name server database record was updated. The last item is the most important because it indicates your record's freshness to other domain name servers on the internet.
Domain servers... These are the domain names and IP addresses for the primary records for your domain name. The InterNIC database will query these servers if it gets questions about your website.



You are here: Help Topics > Domain Name Registration