Support

E-mail

© Copyright 2014
website2Go.com
All Rights Reserved




You are here: Help Topics > Suggestion Box

Suggestion Box





When you click on the Suggestion Box button in the Site Manager, your browser will open a new page, as shown below, with a form ready for you to fill out.

This form is intended to give you a greater opportunity to provide information to website2Go about a suggestion or question.

if you experience a complex or perplexing problem with a particular section of your site or some other site - or if you see something in your site or some other site for which you have an idea, a suggestion or a question, use this form.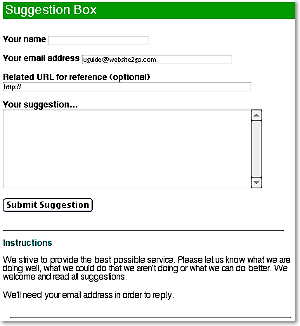 What to put in the Suggestion form
Your Name is simply your real name.
Your email address is any legitimate email address you wish to use. This is important because this is how website2Go will get back to you.
Related URL for reference (optional) is in the event your suggestion or request has to do with a web page or some other element of the internet. By providing an internet address, website2Go will be better able to respond correctly and may be able to directly understand the suggestion or directly determine the problem.
Your suggestion is where you would type the actions, options, or anything else you would like website2Go to consider. If the suggestion relates to a problem you are having, please state both the problem and the suggestion.
If you experience a problem, or have a question or a suggestion about a particular page, website or email address, please use Request Help button.

When you have filled out the appropriate text entry boxes, clicking on the Submit Suggestion button will post the form data to the website2Go administrator.
You will receive an aknowledgement of your submission which will repeat the contents of the Your suggestion text box.
You can also use this feature, and the Request Help feature as often as you like or as is necessary.



You are here: Help Topics > Suggestion Box