Support

E-mail

© Copyright 2014
website2Go.com
All Rights Reserved



Color Scheme Guide/Classic


You are here: Help Topics > Site Color > Color Scheme Guide/Classic

Color Scheme Guide

Classic Style


The Classic color schemes are simple with a subtle visual punch. These schemes use color very sparingly and present most of the information on a white background with black text.

Use one of the Classic styles and you can't go wrong. These colors and background schemes look good with nearly any business or organizational website.

Warm colors, such as Earth, Fall or Barrister, accentuate a positive emotion or feel.

Cool colors, such as Sky, Winter, Forest, accentuate a logical or straightforward emotion or feel.

Impact colors, such as Upbeat, Floral, and Portfolio, accentuate a sharpness or distinctiveness.

For more Cool, Warm and Impact colors, see either Site Color or the User Guide for Color Schemes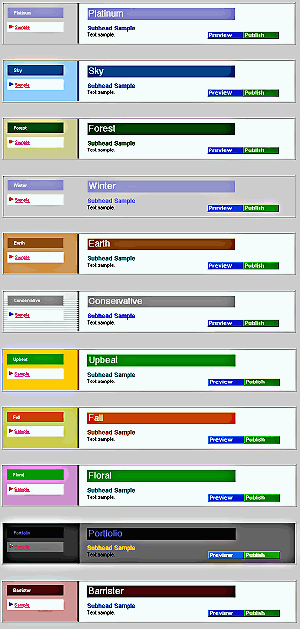 The best way to test a color scheme is to go to the Site Manager and click on the Site Color button.
Find a scheme which appeals or which you would like to try and click on the Preview button.
Spend some time exploring your website with a variety of different schemes. Some schemes will highlight certain elements of your website more than others.



You are here: Help Topics > Site Color > Color Scheme Guide/Classic