Support

E-mail

© Copyright 2014
website2Go.com
All Rights Reserved




You are here: Help Topics > Email Forwarding

Email Forwarding

What is Forwarding?


Incoming email can be forwarded to any existing email address. This is useful if you want all your email to come to the same mailbox, rather than having to check several mailboxes separately. In the Email Forwarding screen, you tell website2Go what to do when it receives email addressed to your domain (yourcompany.com).
An email forwarding account is not a "real" mailbox. It only passes incoming email through to a POP address. You can set a default forwarding address, so any email to your domain will appear in your "real" mailbox.
Your website2Go service includes one or more email forwarding accounts, depending upon your level of service. If you need more, additional forwarding accounts are available at $1.00 per month each. You can make up new forwarding addresses (info@yourcompany.com, sales@yourcompany.com, etc.) and have incoming messages forwarded to any existing "real" email address.
Forwarding addresses cannot be accessed from your email program; they can only redirect incoming email to an existing account. If you need another "real" email account (perhaps for an employee who does not have an email address now), you can buy more POP email accounts for $2.49 per month each.
How to use Email Forwarding features

When you click the Email Forwarding button in the Site Manager, you browser will open a new window from which you can add or change email forwarding characteristics. The window looks like the one shown below.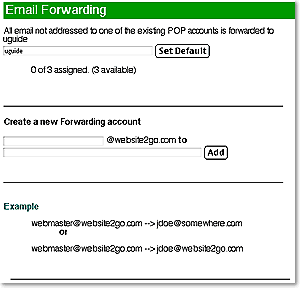 The first text field in the window will be the current default email address for mail you receive through any of the "@yourDomain.com" addresses. It is your login username with no domain name after it, and all incoming email not addressed to another existing POP mailbox or forwarding account will find its way here. PLEASE DO NOT DELETE THE NAME AND LEAVE THIS FIELD BLANK! You may change it, however, to send incoming email to another address, such as the POP email account you have with your ISP, automatically.
You may have, because of your specific service-level agreement with website2Go, more than one POP account and may also have more than one forwarding account. These POP accounts exist on the website2Go mail server, as distinct from the email address (and, therefore server) you gave when you registered for your site.
Email forwarding can also be set to send mail to one of the website2Go POP accounts, as well as to any other email account, including the one you already had prior to your website2Go service and others with different internet providers.
How to Set Default

If the Set Default presently showing is wrong, or if you want to change it, type the new email address in the text field to the left of the Set Default button and then click on the button. DO NOT LEAVE IT BLANK.
How to Add a new Forwarding Account

You can add a new Forwarding Account by filling in the two text boxes above and adjacent to the Add button.
The first text box is where you create the new account which will be forwarded. This address would be of the form "NewAddress@yourDomain.com" and can be a name or a logical name such as "Service@yourDomain.com."
The second text box is where you identify the email address where mail sent to the new Forwarding Address will be delivered.
Typically, this would be your separate email address as you entered in the website2Go registration. Although, any legitimate email address can be used.
This might be useful, for instance, if you had a partner whose email address received forwarded email to the "Service@yourDomain.com" address.
When you've finished entering the text, click the Add button and the changes will become effective within seconds.



You are here: Help Topics > Email Forwarding